Discussion Starter
•
#1
•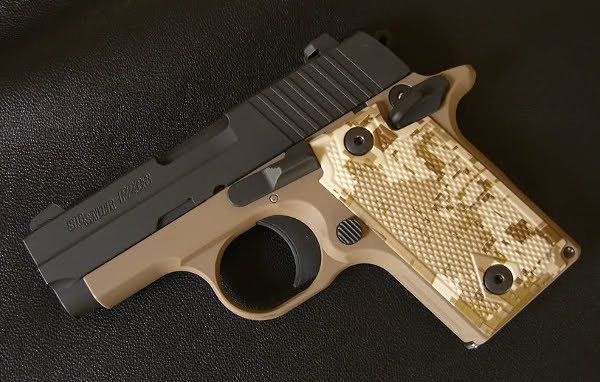 Pictured: Sig P238 Desert, new for 2012
​
Wow! I am pretty astonished at the sheer number of new options Sig Sauer is bringing to the table in 2012, if this post proves true. The Sig Sauer Guns blog has posted a
laundry list
of new Sig models to be unveiled at SHOT 2012.
According to the "wire", the
P250
and
P238
are both getting ambidextrous safety levers. The
P250 Compact
and
SP2022
are getting threaded barrel options. Something called a
1911 Spartan
will be revealed, as well as
POW MIA
commemorative 1911s. The
P226
and
P220
are getting reverse two-tone trim packages (black and stainless), with the latter also getting a completely stainless option.
The
P224
is mentioned, as well, re-hashing all of the details that we've seen in all of the
rumor posts
flying around.
But by far the most interesting to me is the
P938
, a pistol I've only seen referenced once (
on these very forums
, in fact). This is a
9mm version
of the Sig
P238
. It remains single action only (SAO) with single-stacked magazines. Factory mag capacity is 6 rounds, while a
follow-up post
on the blog affirms the availability of 7-round extended mags. Guns.com
also mentions
the 7-round magazine, but as a standard accessory to the Extreme version, one of five expected for 2012. Other versions are Rosewood, Blackwood, Equinox, and SAS - the usual Sig palette.
This is going to be a landmark year for Sig and for SigTalk, which is quickly becoming the premiere meeting place online for Sig owners. I can feel it in my bones.