Discussion Starter
·
#1
·
As many of you know, I'm a freelance writer and photographer who does gun reviews. So I got a P320 X5 sent to me just a bit before most everyone else got theirs. Below are the first couple of photos I'm working on for the review.
My first observation is regarding the trigger. I've got two other P320's - one "stock" and one with the GGI PELT trigger. For me, it's pretty easy to miss the trigger reset during dry fire when I'm trying to go fast. So you get a "click", then the next trigger pull is "dead" (no click) because I didn't let it out all the way to reset. This isn't at all a problem during live fire - only dry.
During SHOT Show when I played with the P320 X5 in the SIG booth, I was fairly convinced that the trigger was, in some way, different from the stock P320 trigger. But when I asked, I was told this wasn't the case. But the trigger reset was sooooo much better for me - the trigger just "felt" different. But I chalked it up to this being a pre-production gun.
Fast forward to the P320 X5 which SIG sent me to review, and I'm absolutely certain this trigger is different (after doing some checking, I did confirm that SIG changed the trigger geometry on the P320 X5). I tried measuring the weight with my Lyman - it's a bit tricky with a flat-faced trigger because the Lyman "hook" wants to slide down the trigger when you pull with it. But I did many measurements and the results were pretty consistently between 5 and 6 lbs: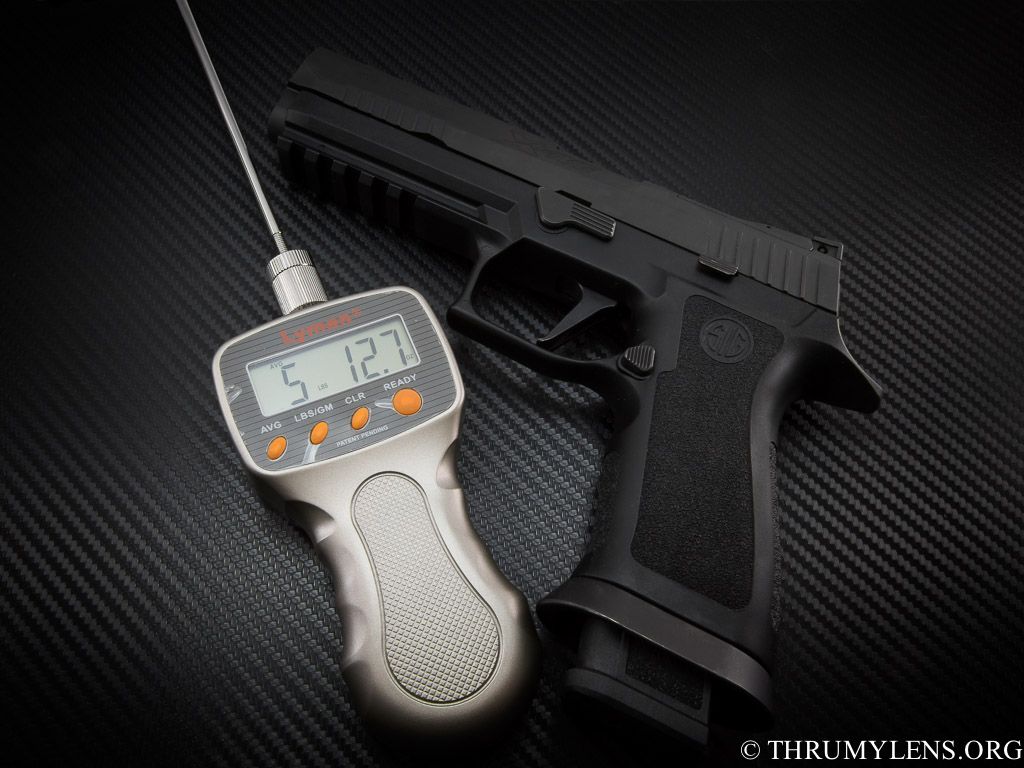 This puts it as being about 2 lbs. lighter than a stock P320, and maybe a pound heavier than a GGI PELT trigger - but the X5 feels very different from both. The P320 X5 trigger is very, very good.
I should have my online review up (with video) in a couple of days - but suffice to say that P320 X5 may just be the best production striker fired pistol ever. It's freakin' awesome!