OpticsPlanet.com No wait. Quick ship. I happen to like them. Along with the scope, I ordered a couple of picatinny rail adapters because when I ordered the rifle I assumed that it would have the two piece rail as shown on the Browning website. But it came with a one piece rail on the receiver so I sent the two piece adapters back. No problem, quick credit.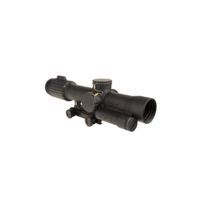 Shop Trijicon VCOG VC18 1-8x28mm Rifle Scope, 34 mm Tube, First Focal Plane (FFP) | Up to 33% Off 4.8 Star Rating on 12 Reviews for Trijicon VCOG VC18 1-8x28mm Rifle Scope, 34...
www.opticsplanet.com
I have the scope and the rifle but I won't have time to set it up for a month, but I may have to buy a cheek riser probably this below, check out the guy's ratings. He hand makes them. I prefer ebay over amazon because you can find highly-rated small business men and wormen on ebay if you know what to look for:
You guys with battle rifles with adjustable stocks don't have to worry about this kind of stuff.
Here is why I purchased the rifle. I would have preferred to just use my BAR .30-06 with the longer barrel, but the drop floor magazine only holds 3+1 and I am afraid of bears:
I am considering buying a Browning BAR MK 3 DBM .308 For various reasons, including that it is currently still legal in California. For you "true" .308 guys and gals out there, what are the best .308 ammo for Bear, Deer, Target/Defense? Let's assume that I eventually would like to reload, so...
www.sigtalk.com
I want to try this ammo:
When that first shot counts, trust ELITE COPPER HUNTING .308WIN 150 grain hunting cartridges for your medium-sized game. ADULT SIGNATURE REQUIRED

www.sigsauer.com